The following is written by a guest blogger; Megan Rivers of Eat Play Cbus. 

EATING IN ATHENS
Athens. What's the first thing that comes to mind? I am going to take a wild guess and say "Ohio University?" What is the second thing that comes to mind? I am going to take another wild guess and say, "Epic Halloween Party?" Am I right? Well, did you know that (besides throwing epic Halloween parties) they are known for their EPIC food? Yep, that's right. Athens, Ohio. They are a hidden foodie  gem and home of the nation's first "super-local" food economies – The 30 Mile Meal – described as "the epicenter of a vibrant and thriving local foods region."  The 30 Mile Meal helps you discover the farms, foods and spirits crafted within just 30 miles of Athens.
"The 30 Mile Meal provides a shared identity for our many farmers, specialty food producers, farmers and retail markets, food events, and independently-owned eateries and bars featuring locally sourced menus. The 30 Mile Meal Project is a collaboration of the ACCVB, the Appalachian Center for Economic Networks (ACEnet) and 140+ local food partners. This initiative pushes the envelope on the growing 100 Mile Meal movement with our own 'super-local' effort to assist visitors and residents in finding local foods and places where you can savor the flavors and food experiences of our region." – AthensOhio.com 
A few weeks ago, we were invited down to explore Athens. If you remember, I had said my husband and I wanted to start exploring more of Ohio awhile back, which meant we weren't going to pass this opportunity up. While our schedules are extremely hectic, we found a way to squeeze in the trip. With Athens being just 90 minutes (if that) away, we were able to head down for the day. We explored many things – but, our favorite parts mostly had to do with food. Even though we only had the day, we managed to squeeze in quite a few stops.
Our first stop was the Athens Farmers Market. If you're from Columbus, you know we aren't lacking in this department. We have some of the best farmers markets. My expectations were high. But, I have to say. Not only were my expectations met, they were BLOWN AWAY. WOW – this farmers market is incredible. So incredible that I would think about driving down on Saturdays just to go to it. It is home to over one hundred vendors. Guarantee you'll find something you need, love and never knew existed.
When we walk into the farmers market, the first thing we saw was bread and lots of it. Instant drool because it wasn't just plain white bread. It was sea salt & herb fougasse. It was Za'atar Manoushe – sesame seed & sea salt. It was Cornetta Napolitana – cherry tomato, basil, aged mozzarella and ricotta. Are you drooling yet? Because I sure am. You better believe we bought as many as we could hold. Holy smokes.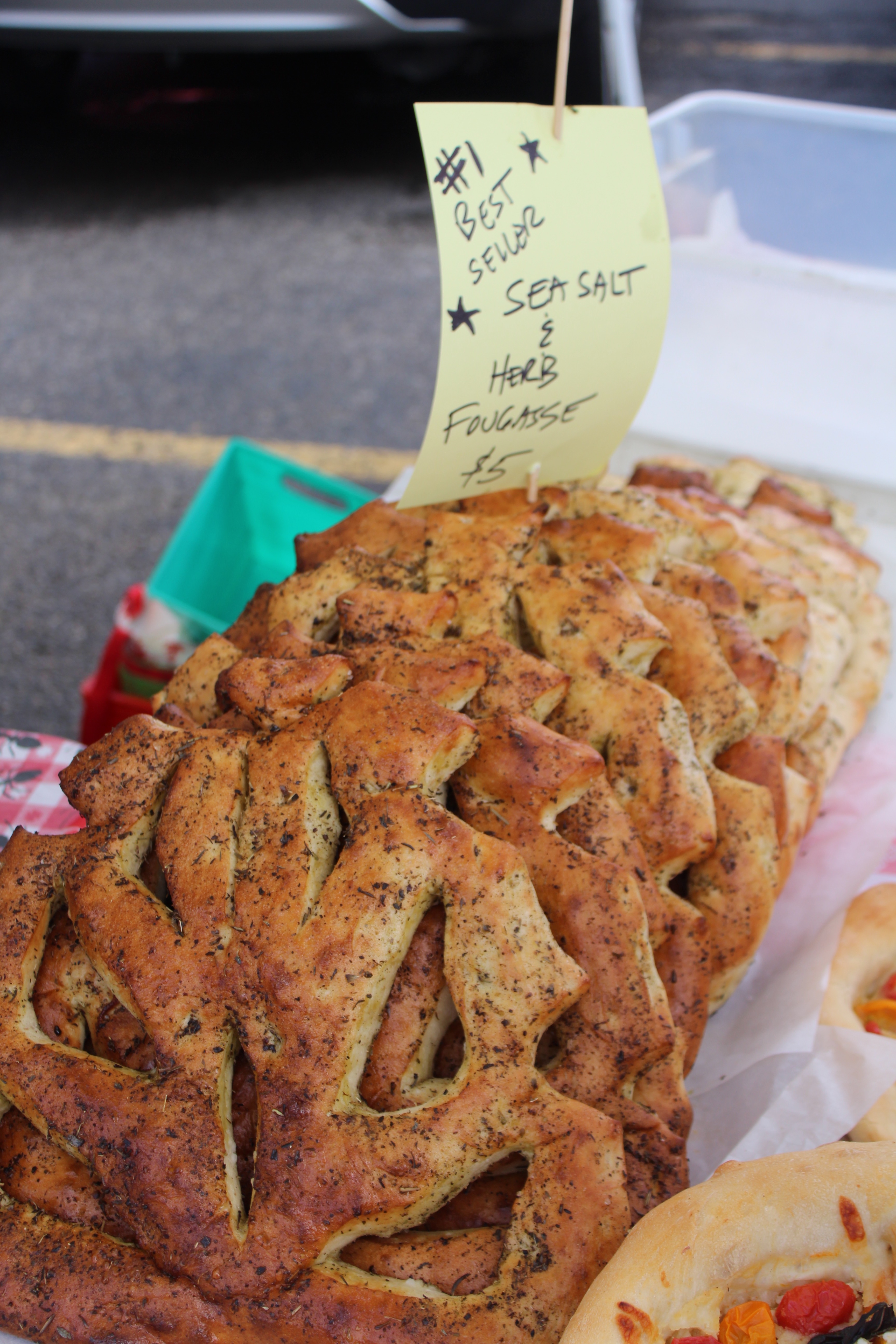 We knew we had a long day ahead of us, which meant as soon as we saw Dirty Girl Coffee we walked (or ran) right over.  As a new coffee drinker, I genuinely appreciated that she had a list of iced coffee drinks. While I don't remember the creative named of my drink, my husbands was named "The Hot Girl" and it had some spice. Cayenne to be exact. Sounds scary, right? It wasn't. He loved the combination of the heat with the cold coffee. Wait, now I remember the name of mine. It was called the "Mud Runner." How could I forget that? I love Rum Runners and I think that's why I ordered it? Or it could be that it was cold brewed coffee with dark chocolate, salted caramel, and crème. Yeah, it was probably that. It was the perfect morning treat before we set off to hike The Ridges Trail.
"As a brand we want to pay homage to all women who perform every day. ​Not for glory, not for praise or pats on the back, not for money or approval.  For these women it's in their being, it's in their soul, it's who they are.  They aren't afraid to get dirt under their nails, brush the dust off their jeans, rub sweat off their brow.  They love who they are and what they do.  The earth moves and rotates projecting them to their next glorious adventure.  Their next day of getting dirty… their next day of becoming perfect.  Quality is our passion, coffee is our medium.  We utilize the finest Arabica beans to create exceptional coffees.  It's how we get dirty." – Dirty Girl Coffee
We had an itinerary planned for us and whether or not it included Casa Nueva on it, we knew we had to stop. We've been once before, just to pick up a hat for a friend and grab a quick drink. Lucky for us, it was on our itinerary! This place is INCREDIBLE. A hippie Mexican joint, if you will?  From the food to the drinks to the people to their overall mission – you just don't find places like this one. What sets them apart, you ask? Let me just make a list.
They've been a a provider of local, sustainable, Mexican-inspired food for the Athens  community for the last 30+ years – making them a local favorite.
They're a worker owned co-op. What does that mean you ask? "A worker-owned co-op is a business where the workers of the cooperative have joined together to produce goods and/or services for sale. The workers, being the only members of the cooperative, elect the Board of Directors and share whatever profits are earned by the business." They currently have 21 worker-owners.
They have a no-tipping policy. It is worked into their prices. Don't worry – they still have wonderful prices. If you do tip (cash, on accident), they donate it to a charity. You can read more about the "why no tipping policy" here.
They are a no-tv establishment. Yep, NO TV's. What does that mean? It means you're forced to have a conversation. You're forced to be present! "But we are a great place to have really stimulating conversation, see some interesting local art, or see a lot of live music. See? We don't need tvs. Not when we have each other."
They're part of the "Slow Food" movement, meaning they make everything in-house and from scratch. You can tell. Oh, and they DON'T BELIEVE IN MICROWAVES.
They're home to many infused vodkas.  Their Cantina Coordinator takes fresh fruits, vegetables, herbs, and other ingredients and steeps them in vodka until they are ripe and ready to be consumed. You can either have them on the rocks or order one of their many delicious cocktails.
Should have started with this one. They are split into two – the Cantina and the Bodega. The Cantina is your 'walk up to the bar, seat yourself' side and the Bodega is more of a 'put your name on a list and be seated' side. The best part? You can enjoy both. Grab drinks at the Cantina while you wait for your table. Or do as we do and enjoy drinks, tacos and the conversation of the bartender in the Cantina. Guarantee you'll enjoy the conversation and make a new friend (or two).
This list could go on and on. Do yourself a favor. Go there.
Broneys was a quick pitstop. I am not sure what this drink is called. I posted on instagram asking if anyone had any suggestions and (@rise.n.dine) said I had to go and get the peach champagne drink from Broney's. I didn't even question her for more details when I read what she was suggesting. If you didn't know peach and champagne are two of my favorite things. Mix them together and I am in heaven. This was the perfect drink to cool off with. Just beware. You will want to drink it fast. Don't do it. Instant brain freeze!
Location: 7 West Carpenter Street, Uptown Athens
Phone: 740-592-5900
One of our "if you have time to stop" suggestions was O'Betty's. 
"Their hotdogs are grilled, 100% all-beef dogs in natural casings from Ohio. No fillers, never frozen, robustly seasoned; they 'snap' when you bite them. They are served in toasted and steamed honey buns. Many and varied toppings and sauces available (all homemade) using fresh and local ingredients as available. For vegetarians, tofu dogs are available."
When we read their description on Athens County Visitor's Bureau, we knew we had to fit it in. Whether we were hungry or not. We are big fans of Dirty Franks and we had to see how it measured up. Walking up, I knew I was going to love it. Walking in, I instantly fell in love. We were greeted by the grill, the counter and a smiling face – eager to help us. I loved the she indulged in our over-excited attitudes. We felt like it was the first day of school and she acted like she was our proud mom – indulging in each and every over the top question and idea we had. After ordering one of everything on the menu, well, almost one of everything (remember, we had just eaten) – we walked back to find our table.
This is where I fell more in love. A burlesque-esque (is that a word) hot dog museum in the back + leopard sprinkled throughout. Is this a dream? I.love. this. place.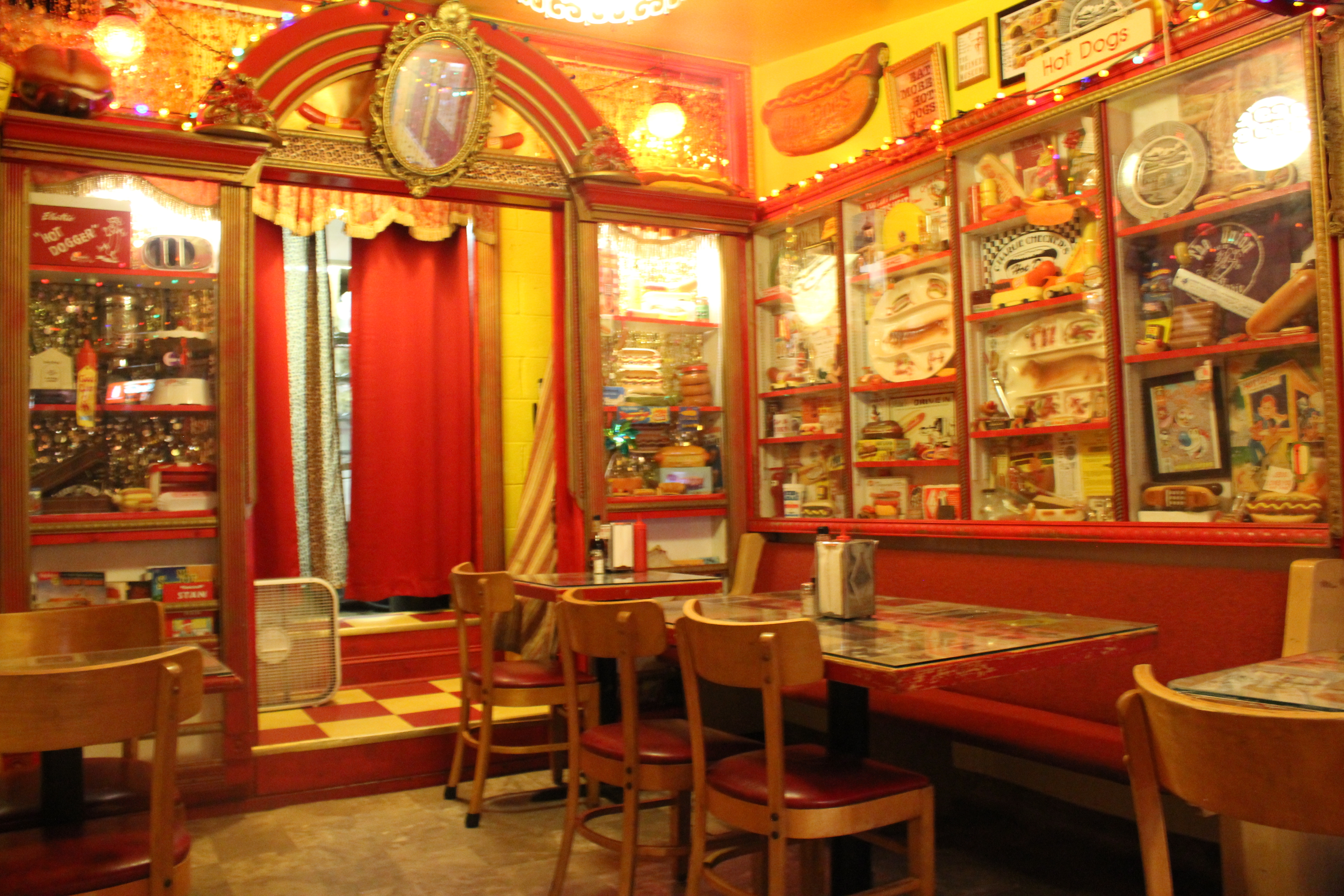 Now. Here comes the food.
Location: 15 W. State St., Athens
Phone: 740-589-6111
Before we go any further. I have to tell you my only negative on this place – why are they NOT IN COLUMBUS? I loved this place. The vibe. The energy. The decor. The patio. The people. The drinks. All of it was right up my alley. It is a bit slower paced than the typical Athen's bars you think of.  Maybe because it is off the "beaten" path a bit. Not a far walk form the main strip, but, far enough away not to be stumbled upon? Also, keep in mind I am not familiar with Athens at all. I've only been three times and one of them was dropping (or picking up..or visiting) my sister off at OU in 2008ish.
Something unique (and not too common) about them was the number of ciders they carry (and make in-house).
"Farmhouse style hard cider made from 100% Ohio grown apples, fermentation begins the same day that they're pressed, unfiltered, no preservatives added.  We also feature a full line of Fifth Element Spirits, our sister-company, located just down the road in Meigs County. Be sure to try one of our famous craft cocktails, made the way it was meant to be: with fresh squeezed juices, seasonal and local produce, our very own house-made bitters, syrups, and infusions, and a vast and distinctive collection of fine spirits from around the block and around the world!" – West End Cider House
We've been down to Athens prior and my husband wanted to stop at GoodFella's but we didn't have time. This time we did and he sure was happy. It was our last food stop of the day – mostly to have a snack for the car. This pizza shop is a no frills, no fuss kinda spot. You walk up to the counter. Pick cheese or pepperoni, your .25 sauces (garlic butter, ranch or marinara), chips (lays, fritos or cheetos) and your drink. Simplicity in its finest.
Let me tell you, waiting the short wait (less than 10 minutes) was hard because it SMELLED INCREDIBLE. I thought maybe if I went outside my mouth would stop watering. Nope. Not the case. I could still smell the aroma of the delicious pizza baking. However, while the smell was heavenly, I wasn't as impressed as I had hoped with it. My husband described it as, "better than middle school pizza but still kind of like it." I think we have different memories of our middle school cafeteria pizza. It is a thick sheet of pizza, that is very doughy. I think that's where the downfall came in. I am not a fan of super thick pizza. However, I do have to say the sauce was perfect. Oh, and that garlic butter they layer on top when it comes out of the oven? That set the bar for any future pizza I have. I got to thinking. We are in Athens, right? I've now realized they are a town filled with beautiful views and delicious, locally focused food – but, you can't forget they are a college town and what is better after a night of drinking? A big, doughy piece of pizza! Maybe that's why both locations are on the northern and southern ends of the Court Street bar scene?
Location: 35 N. Court St. & 6 W. Union St., Uptown Athens
Phone: 740-592-9000
---
While we wished we had more time (and more room in our stomachs) to explore more, we didn't. The day ended far too quickly. But, the good thing? Athens is only 90 minutes away and such an easy (and beautiful) drive. Here is a list of what's up next on our must visit list.
HAVE YOU SCHEDULED YOUR TRIP YET? IF NOT, WHAT ARE YOU WAITING FOR! CHECK OUT THE ATHENS COUNTY VISITOR'S BUREAU WEBSITE TO HELP GET YOU STARTED.
PS – Yes, this was all in one day and yes, we did eat this ALL. Thank goodness we did lots of walking at 'The Ridges – Lunatic Asylum.'
More to come on that adventure……..
UNTIL THEN, FEEL FREE TO FOLLOW ALONG ON MY OTHER ADVENTURES ON INSTAGRAM AND FACEBOOK.